About Accumetrix
Choice, Convenience, and Counsel When Choosing the Ideal Mortgage
Mortgage Alliance Accumetrix is a mortgage brokerage firm that is committed to serving the mortgage needs of residents in Aurora and Newmarket, and York Region. Our team of mortgage professionals will provide the information you want and the guidance you need to make an informed decision when applying for your mortgage, to refinance, or finance the purchase of a home or property.


Choice
It is the fundamental role of a mortgage broker to provide access to multiple lenders and allow their clients the broadest flexibility possible to obtain the right mortgage for their needs and budget. When you entrust Mortgage Alliance Accumetrix with your mortgage needs, you will have access to over 30 lenders to help secure the financing that works best for you; our range of lender options includes:
Banks
Insurance Companies
Credit Unions
Investment Companies
Trust Companies
Private and Securitized Lenders
Convenience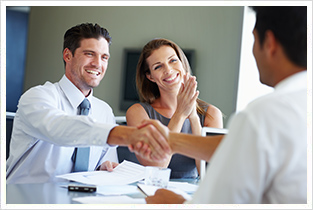 At Mortgage Alliance Accumetrix, we are flexible to meet on your terms, in a relaxed environment and at a time convenient in your calendar, and we are pleased to invest as much time as you need to provide information and answer questions that will help you in making your decision.
All questions are welcome and encouraged and none are too basic or too abstract to warrant a satisfactory response. To support our clients with their comfort in this regard, members of the Mortgage Alliance Accumetrix staff are fluent in several languages, including:
English
Arabic
Spanish
French
Italian
Counsel
At Mortgage Alliance Accumetrix, we know our clients as people, not account numbers, and provide you with unbiased advice and a wide range of options that will lead you to an ideal solution. We get to know you, your plan, and your goals, so that we can then advise you on the optimum products to help you achieve success, which may include:
Becoming debt free
Helping family members
Upgrading your home
Funding a child's education, and even
Buying a cottage
Saving for the future
Giving Back to Our Community


While we assist clients with their mortgage needs, our Mortgage Alliance Accumetrix team also believes in the importance of supporting various events within our community. We encourage and welcome sponsorship requests, and have been pleased to offer support in the past through such means as:
Volunteer initiatives
Sponsorships for sports teams
Participation in community fairs
To learn more about our team, our range of services, and our community involvement, call Mortgage Alliance Accumetrix at 905-780-0908 or contact us to request a complimentary consultation at your convenience.